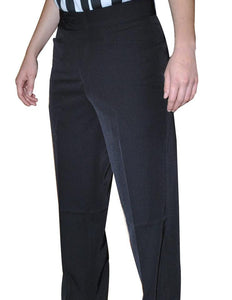 Smitty 4-Way Stretch Black Men's Basketball Pant
BKS-281-28
4-Way Stretch 92% Poly/8% Spandex
Comfort Wide Grip Waistband
Button Loop on Left Back Pocket
Heavy Duty Zipper
Extra Buttons Included
Available in Flat Front or Pleated

Available in Odd Sizes: 28 - 38 and Even Sizes: 40 - 46
get a size bigger
Get one size bigger than what you usually wear.
4 way stretch Black mens BB pants
Pants are very nice and Professional.
They need to be hemmed and would fit an 7 foot guy....hoping they are not to big around the bottom of my ankles once hemmed, wait and see.
Smitty 4-Way Stretch Black Men's Basketball Pant
---
We Also Recommend